Shree Kabbalamma Temple
CUSTOM & HARAKE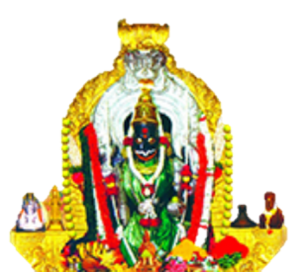 Sree Kabbalamma Temple is a historic place in kanakapura.
As Mysore royal family's Chamaraja Wodeyar was kept prisoner in Kabbalu, Mysore's very powerful godess Shri.Chamundeshwari came and settled here in the form of Shri.Kaalikadeve or Shri.Kabbalamma.  It is believed that Shri.Kabbalamma has been positively responding with her blessings to people of this region.
Sacred Customs Practiced at Kabbalu
In the past, when there was no rains and could not grow any crop, people's pooja performance to Shri.Shri.Kabbalamma was unique.  During that famine year, people thought their godess Shri.Shri.Kabbalamma rejected them and has left the grama. So find her, they engaged nearby Basavana Betta god Anjaneya known as Shri.Hebbetturaya.  They therefore started the custom of visiting Basavana Betta every year.  In order to show Anjaneya to identify Shri.Shri.Kabbalamma, they took her procession idol to the Betta.  During those time there was no walkable track to the Betta.  Farmers of Kabbalu had to herd them to Sathanuru, Harihara and further to the Basavana Betta.   Kabbalu farmers first took their cattle and the procession idol of Shri.Shri.Kabbalamma to Harihara which was at the hill base of Betta, perform pooja to Maaramma there, and then hike the Betta and would place the procession idol at the Shri.Hebbetturaya temple on the Betta.  But now that there are good roads to the Betta, Kabbalu farmers have stopped going via Sathanuru and Harihara.
The devotees perform pooja to Shri.Hebbetturaya and request him to find Shri.Shri.Kabbalamma who has gone out of their grama, and send Her to our grama.  After this prayer, when they again perform pooja to Shri.Hebbetturaya He, as per devotees' request search and bring Shri.Kabbalamma to them.  Arrival of Shri.Kabbalamma is indicated by avahagane on either of the Poojari of these temples .  She then says She will not come to Kabbalu grama, as proper ritualistic pooja is not offered to her.  But the Kabbalu people repeated request and persuade bring Her to Kabbalu.  Even today, on the occasion, Kabbalu people practise this custom. 
HARAKE
Many years after the Shri.Kaalikadevi idol was originally installed, some people started to perform special pooja on Tuesdays, Fridays and Sundays.  It was presumed that when the Brahmin archakas could not perform pooja as per Shastra, being unhappy they gave up archaka profession and handed over the duty to Kabbalu people.
Those who got the benefit of the Goddess's blessing power, became devotees.  As the time passed, many stories about the Godess were spread.  People started to call Shri.Kaalikadevi as Gramadevathe, Shri.Kabbalu Amma or Shri.Kabbalamma, and started several types of Harake.  If these Harakes were committed with true intentions, they getting fulfilled.  Then the Harake devotees would visit the Godess and offer whatever they had promised.  Offerings of silver rake ornaments to Shri.Kaalikadevi/Shri.Kabbalamma made in 1950-60 AD, have been mentioned in the Kanakapura Shasanas.  Also offering of silver headgear is mentioned in the Shasana 131.
Shasana 129

Durugagavudana maga Maragavuda of Maarasandra, Maragavudana maga Doddlingegavuda of the same grama, and Jadegavuda of Madihalli offerings to the Godess in Kalayukta sam Maagha ba 10.

Shasana 130

Maragavuda of Marasandra, a devotee, offerings to Shri.Kabbalamma in Kalayukta sam., Maagha ba. 10.

Shasana 131

Offerings by Kuruballi Kabbalugavuda, Konamaranahalli Kaligavuda. Made by Kendachari and Puttachari.
Tade Seva
People who believe they are going through irregularities or unusual activities in their daily life, come for Drishti Nivarana. Tade Seva is conducted in kabbalu punyakshetra to give nivarana for the pilgrims.